Zane Smith earned his second NASCAR Craftsman Truck Series win of the 2023 season at the Circuit of the Americas in Texas on Saturday.
It's his third top-five finish in his first four races of the season and his late-race exhaustion perfectly encapsulated Smith's season thus far: hot.
CLICK HERE FOR MORE SPORTS COVERAGE ON FOXNEWS.COM
The reigning Truck Series champion's vehicle caught fire during the victory celebration. He was congratulating his team as thick black smoke billowed out of his truck.
He led the last 15 laps of the race and crossed the line live some 5.451 seconds ahead of Kyle Busch.
«He was fast when it mattered,» Smith said after the race, via Reuters. «I just enjoy coming to all the road courses, especially here. It's great. Just a true testament to this team.»
NASCAR SUSPENDS DRIVER JOSH WILLIAMS FOR PARKING A CAR AT THE START-FINISH LINE IN CHALLENGE OF ORDER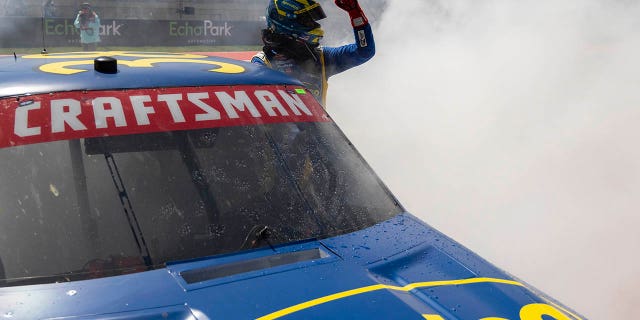 «Once we get to that 8 [laps]-Point open and I was told Kyle was in second place, my heart rate went up a bit, just because he's so good at managing his stuff when it matters. So I tried not to make any mistakes.»
Ty Majeski finished in third place, Tyler Ankrum crossed the finish line in fourth and Ross Chastain was fifth.
«I played the long game and unfortunately the long game didn't work,» Busch added. «They were lucky and they beat us.»
Smith began the 2023 truck season with a win at Daytona and then finished in second place at Las Vegas Motor Speedway. At Atlanta, Smith finished 20th.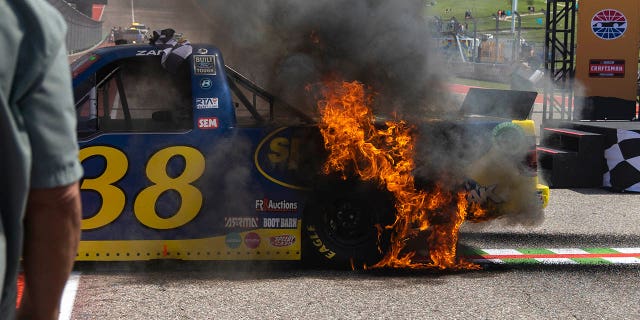 CLICK HERE TO GET THE FOX NEWS APP
It's pretty much the same way Smith started last season. He, too, won at Daytona to kick off 2022 and then finished in first place at the Circuit of the Americas.