A minor league baseball game Sunday between the affiliate New York Yankees and Philadelphia Phillies in the Florida State League turned ugly when a pitch hit sparked a mass brawl.
The chaos began in the top of the third inning when Tampa Tarpons pitcher Alex Bustamante hit Clearwater Threshers batter Erick Brito. Clearwater manager Marty Malloy, who was acting as third base coach, had a problem with the pitch and had words for the Tampa dugout.
CLICK HERE FOR MORE SPORTS COVERAGE ON FOXNEWS.COM
Malloy was ejected from the game and began to walk toward home plate where Tampa pitching coach Gerardo Casadiego had run. Malloy spoke to the umpire as Casadiego stood in front of his receiver. Malloy and the catcher seemed at a loss for words before Casadiego intervened.
Malloy was then seen throwing a right hand at Casadiego and taking off the coach's hat. Malloy stepped back after the punch and Casadiego tried to hit back, but instead hit another Threshers player. Things took off and got even wilder from there. Minor league reporter John Brophy caught the fight in the game.
FORMER MLB PITCHER DAVID CONE DEFENDS MAX SCHERZER FROM THE METS AFTER PERFORMING A ROSIN TEST
Tampa hitting coach Rick Guarno was tackled to the ground by some Threshers players.
Several people were ejected from the game, and the game was delayed for 20 minutes.
The Threshers won 12-3.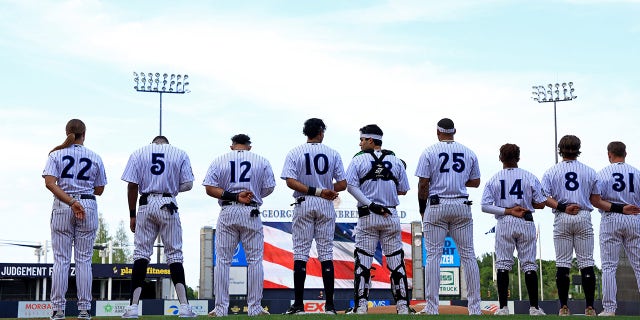 CLICK HERE TO GET THE FOX NEWS APP
Brito and Caleb Ricketts would each have three RBIs in the victory. Daury Arias and Anthony Hall were each credited with an RBI for Tampa.