Holly Holm called for an end to the sexualization of children on Saturday after defeating Yana Santos by unanimous decision.
It was Holm's first win since 2020 and he expressed something he said had been on his heart.
CLICK HERE FOR MORE SPORTS COVERAGE ON FOXNEWS.COM
«Something has been on my heart and I feel like I have the platform to say it, I need to say it,» Holm said. «I feel like it's really sad all the sexualization of our children right now and we need to protect them whatever it is. Let's protect the children please!»
In the post-fight press conference, Holm explained what he was talking about.
UFC FIGHTER COLBY COVINGTON APPEARS TO THREATEN BROADCAST ON RANT
«You know there are a lot of things I never want to be… I'm not even a real political person,» Holm added. «I don't like to put that stuff on any of my social media… but there are good and bad things too. I feel like everyone should be on the same side on that. I don't feel like that has anything to do with left side, right side or something like that. I feel like everyone should want to protect their children.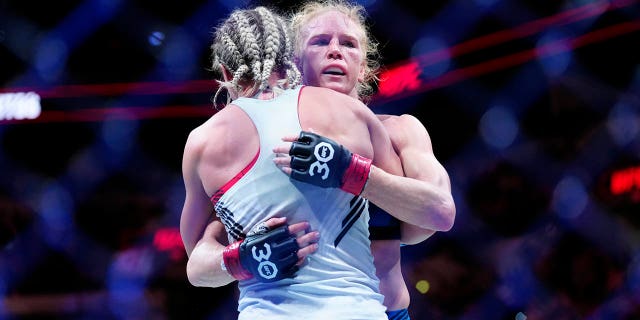 «There's a lot of child trafficking. I mean it's like the extreme part. There are so many levels. You see it's almost more accepted and I think that's really sad. I feel like we should all do what we can. A lot of people don't know what to do But at least if I can have a voice on it, then that's something I can talk about. And it's just to bring everyone together to protect the children.
«It affects the people in their life long-term as well. I have friends who are adults and their oldest, who is kind of a shadow, kind of a dark space for them, is being sexualized when they were young. I feel like it's almost becoming returning accepted.»
Holm last fought in 2022 and it looked like he was going to be in the UFC for a bit longer.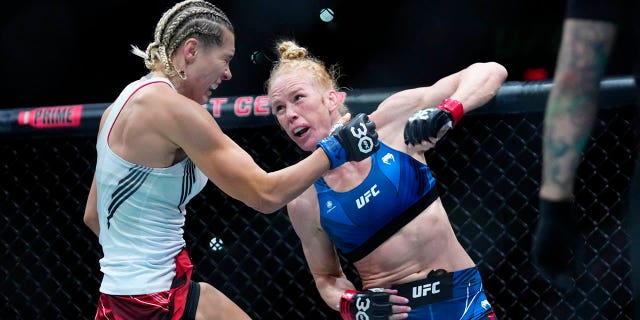 CLICK HERE TO GET THE FOX NEWS APP
She signed a six-fight contract with the UFC before her fight against Santos, her promoter Lenny Fresquez told the Albuquerque Journal.