Former President Donald Trump leads Florida Gov. Ron DeSantis by 15 points in a new NBC News poll of the race for the Republican presidential nomination, and the two men are the only candidates to garner double-digit support from Republican primary voters.
The former president leads the field with 46% of Republican primary voters, followed by DeSantis with 31%. Former Vice President Mike Pence sits at 6%, followed by former United Nations ambassador Nikki Haley, South Carolina Sen. Tim Scott and former Arkansas Republican Gov. Asa Hutchinson, all tied at 3%. Businessman Vivek Ramaswamy, the only other politician named specifically for Republican primary voters by the interviewers who conducted the poll, has 2%.
Trump enjoys the support of a majority of Republican primary voters without a college education, who consider themselves «very conservative,» those between the ages of 50 and 64, and those who see themselves primarily as Trump supporters over the Republican Party as a whole.
DeSantis doesn't win a majority of any major demographic subgroup, but he does better among younger voters and is supported by 49% of those who say they support the GOP over Trump.
While Trump still wins a plurality of Republican primary voters with at least a college degree (38%), most back another candidate. Twenty-eight percent say they support DeSantis, 8% choose Pence, 6% choose Haley, 4% choose Hutchinson or Ramaswamy, and 3% choose Scott.
But while Trump and DeSantis are beginning to butt heads, it's clear that for many Republican primary voters, they're the top two choices: About two-thirds have Trump and DeSantis as their first and second choices in the Republican primary field.
It's the latest national poll to show Trump holding a significant lead over DeSantis, even as DeSantis has performed well in head-to-head matches against Biden (which this poll didn't test).
The NBC News poll also asked Republican primary voters what characteristics they looked for in a candidate, without naming a specific candidate.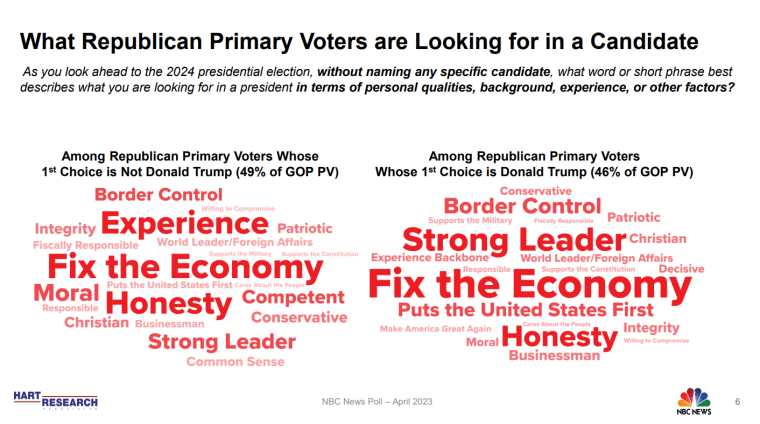 The NBC News poll was conducted April 14-18 among 1,000 adults, including 861 contacted by cell phone, and has an overall margin of error of plus-minus 3.1 percentage points.
The margin of error for the poll's 800 registered voters is plus-minus 3.46 percentage points, and the margin of error among the 292 Republican primary voters is plus-minus 5.99 percentage points.