WASHINGTON — Days after the 2012 Sandy Hook Elementary School massacre, then-Democratic leader Nancy Pelosi appointed Rep. Mike Thompson, a Vietnam veteran and lifelong hunter, to lead a new group to find ways to work with Republicans to stop gun violence.
More than a decade later, Thompson is still chair of the Task Force on the Prevention of Gun Violence, and gun deaths in the United States are skyrocketing. Some Democratic lawmakers and gun control activists now say a more aggressive approach — and new leadership — from the little-known task force is needed to draw a starker contrast between the two parties.
Thompson is a close ally of Pelosi who represents a district that stretches from northern San Francisco Bay through the Napa and Sonoma Valleys and into some rural northern California. While no one is publicly calling on him to resign, there have been numerous private discussions between lawmakers and activists in recent months about the need for change, the sources said.
Minority Leader Hakeem Jeffries, DN.Y., a member of the Congressional Black Caucus who succeeded Pelosi as the top House Democrat in January, has been a part of these discussions and ultimately has the power to replace to Thompson or keep him in place.
Some Black Caucus members have singled out two of their own: Reps. Lucy McBath, D-Ga., and Robin Kelly, D-Ill. —as obvious successors to Thompson. They argue that the two women have been more effective messengers about the need for gun reform, ratcheting up the pressure on die-hard Republicans by speaking out about their personal experiences with gun violence that has devastated black communities.
In 2018, McBath flipped a Republican Party seat outside Atlanta, addressing the issue after her 17-year-old son, Jordan, was shot and killed by a white man during an argument over loud music; Kelly represents a district that includes parts of South Chicago that have been riddled with shooting deaths. Both serve in the group's leadership and are open to serving as chair, but neither is actively campaigning for the position.
"I think there is frustration and a desire to acknowledge the moment we find ourselves in, particularly the mass shootings we've seen this year," said a senior source in the Congressional Black Caucus who spoke on condition of anonymity to discuss freely. the current dynamics. "When it comes to tactics, particularly how we hold accountable the Republicans who are currently getting off the hook, there is a desire for the Gun Violence Task Force to change their method of business and their tactics."
The source said that Jeffries «is aware of the concerns that members are expressing.» A Jeffries spokesman declined to comment.
'New blood'
"I have the greatest respect for Mr. Thompson; I think it has been a strong chair. There is nothing wrong with new blood," added a senior Black Caucus lawmaker who also spoke on condition of anonymity. «We have constituents literally crying out for action, not just here in Congress but in the states.»
"We need people who can be in a position to help articulate the message of why we need this, and who can work to reach the agreements we need to pass meaningful legislation," the legislator added.
In 2012, Democrats saw Thompson, a fiscally conservative member of the centrist Blue Dog Coalition, as someone who could work on gun issues without alienating the swing voters vulnerable Democrats must appeal to. But activists now say gun policy has changed, and reform advocates like McBath are running and winning competitive races. A gun control activist said Thompson, the father of a deputy sheriff and firefighter, was once a «very effective leader» but now there was a «strong desire for change.»
"He is a white male with ties to law enforcement. And he is no longer an issue for whites, "said the activist. "No, it is not necessary for law enforcement to support the issue to get votes. It is not necessary for law enforcement to be behind the problem to justify a particular law. That time he has come and gone.
McBath, 63, who has been mentioned as a potential candidate for governor of Georgia in 2026, he said, "I'm here to help in any way I can. I want to pass as many gun safety laws as possible.»
Kelly, 67, said he would «step up if asked» but added there have been no discussions within the group about the leadership change.
"I'm a team player, so I'm ready to work in any capacity," Kelly said.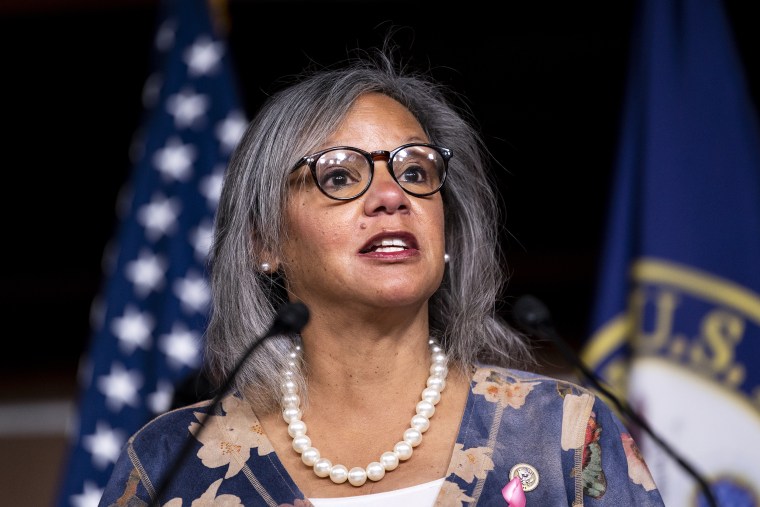 don't back down
In a phone interview Tuesday, Thompson, 72, defended his decade-long record as president and gave no indication that he planned to resign any time soon. In the last Congress, he said, House Democrats passed bills expanding background checks, closing Charleston's so-called loophole and banning assault weapons; however, neither bill passed the Senate into law.
Thompson argued that «good policy and advocacy work» by House Democrats had set the stage for senators to reach agreement last year on the first major gun reform bill passed by Congress in a generation.
He also downplayed some of the critical comments directed at him, chalking them up to Democratic frustration at being outnumbered and seeing Republicans pass "very radical legislation" loosening restrictions on things like stabilizing handgun brakes.
"I can understand where people can get frustrated. Trust me, if new leadership got us gun violence prevention legislation, I would have been lobbying for new leadership a long time ago," Thompson said. "I'm always interested in hearing ideas. And any of those ideas that lead us to 218 [votes] in the House, I think that would be wonderful.»
Asked if others should be given the chance to lead the 170-member task force, Thompson responded, «I think I've been very effective in the role, and as long as I can continue to be effective, I think I probably should continue.» Be effective.»
Thompson also noted the irony that some of the calls for «new blood» came from the Black Caucus, whose members have been fierce defenders of the democrats' seniority systemespecially when it comes to committee chairs.
"It's interesting that this new concept of blood came from the Black Caucus; they have always been against that," she said with a smile.
There are signs that Thompson, who is in his 13th term, has been responding to calls to be tougher. Prompted by McBath, Kelly and other members, this month's task force, National Gun Violence Awareness Month, devised a strategy to launch three firing petitions to increase pressure on Republicans to support gun legislation. .
McBath's firing petition would bypass the leadership of the Republican Party and force a vote on an assault weapons ban. The two background check proposals, sponsored by Thompson and former Democratic leader Jim Clyburn of South Carolina, former chair of the Black Caucus, would strengthen background checks for gun purchases.
But the strategy of pursuing discharge petitions has met with skepticism from a handful of Democrats. Currently, none of the three has unanimous Democratic support. The assault weapons ban proposal has 205 signatures, and the two background check measures each have 208. And a key Republican who voted last year to bolster background checks and ban assault weapons, Rep. Brian Fitzpatrick of Pennsylvania, rejected the strategy to end-execute President Kevin McCarthy and force votes on the bills.
Thompson and Democratic leaders, however, see the search itself as a tremendous success, something that stemmed from the group's own membership.
"This is an idea pushed by a task force to make the discharge requests and continue to make the American people understand how important this is," Thompson said. "We cannot lose sight of the fact that external groups are important, the working group is important. But it's the American people who are really going to push this to the finish line.»
'For me, we are all leaders'
Some key black lawmakers say it's irrelevant who serves as task force chair because so many Democrats are leading the charge on gun violence.
"Democrats are not divided. And we're following the lead of strong leaders like Mike Thompson, like Robin Kelly, like Lucy McBath. I feel comfortable working with all three. To me, we are all leaders," said Rep. Joyce Beatty, D-Ohio, immediate past chair of the Black Caucus. "What's most important to me is safer communities, and I feel like I can do that with all three."
Progressive Rep. Jamaal Bowman, DN.Y., 47, said he and Rep. Maxwell Frost, D-Fla., 26, a survivor of gun violence, joined the task force this year and are contributing new blood, fresh ideas and energy. to the table.
"I am one of the strongest and most consistent voices on the subject. So it's not about him and his leadership on that task force,» Bowman said of Thompson. «It's about all of us being relentless, stepping up and continuing to speak out loud about that issue.»
But he added: «Yes, there should be rotating leadership for the task force … and I'm sure Rep. Thompson would be open to that.»
The current chair of the Black Caucus, Steven Horsford, D-Nevada, said he had no details about possible discussions on calls for changes in the task force. But he praised McBath when asked if he was up to the task of leading the gun violence group.
"I have the utmost respect for the courage, conviction and strength that Lucy McBath brings to this institution every day," said Horsford, who was just 19 when her own father died. killed by gun violence.
«I just know that it's nice to have someone with the background, the lived experience, the direct impact of the loss of their son, helping to lead what I call the new gun lobby.»