Texas Gov. Greg Abbott has accused President Joe Biden of trying to cripple his state's «sovereign interest» in securing its border, days after the Justice Department said it intends to sue Texas over placing buoys in the Rio Grande to deter migrants.
"In a letter sent to me late at night last Thursday, your lawyers at the Department of Justice threatened to sue the state of Texas over the floating sea barriers we have deployed on the Rio Grande River at Eagle Pass," Abbott, a Republican, wrote to Biden on Monday. «Texas will see you in court, Mr. President.»
Abbott, a Republican, sent his letter just days after the DOJ sent its own letter to the governor. That letter said the Justice Department intends to sue Texas unless the state acts to remove the buoys from the river. The DOJ said the barriers endanger public safety and could obstruct the official duties of the federal government, among other concerns.
In his letter, the Texas governor accused the Biden administration of repeatedly impeding state sovereignty, citing letters he previously wrote to the president about securing the border.
The Justice Department, in its letter to Abbott on Friday, said the river buoys also violate the Rivers and Ports Law and raise humanitarian concerns.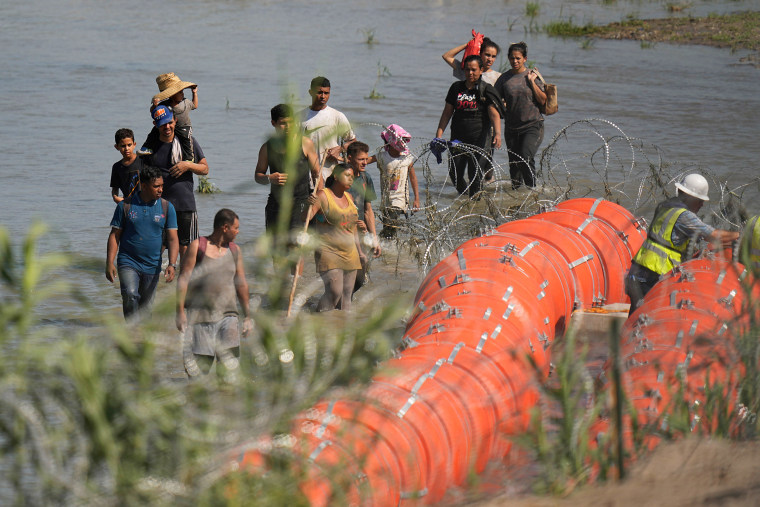 However, Abbott asserted that the law does not apply to Texas actions, saying that while he shares the administration's concern for the welfare of migrants, Biden's «finger is pointing in the wrong direction.»
"None of us want to see another death in the Rio Grande," Abbott wrote. "However, their open border policies encourage migrants to risk their lives crossing illegally by water, rather than safely and legally at a port of entry. No one drowns on a bridge.»