Scorpion tamales made with chocolate and pineapple, chiniquile tostadas, marrow with garlic-roasted grasshoppers (chapulines), and ant larvae tacos (escamole): How about that for a sampler plate?
After facing an initial backlash online, a Mexican chef in Denver has introduced Aztec-influenced dishes in hopes of educating diners about pre-Hispanic cuisine and a culture that has been around for thousands of years.
Jose Avila, a James-Beard-nominated chef at La Diabla Pozole and Mezcal in downtown Denver, he first teased his guests about a new taco menu on the restaurant's Instagram in February. The taco featured grasshoppers, a pre-Hispanic Mexican delicacy consisting of small grasshoppers that are dried and roasted and often seasoned today with garlic, chile, and lime.
"Most bugs on their own don't know much. Just like crickets, they just taste like something crunchy with no flavor," said Avila, who grew up in Mexico City eating grasshoppers while shopping for produce at local markets with his mother.
The post gathered just over 100 divided opinions, as some echoed the sentiments of "I refuse to eat bugs. I want steak! as one commenter said. Others wished they had a chance to try them, "When I was little my cousins ​​and I used to catch them and fry them," said another commenter.
"A lot of people think we wanted to start a trend or something, which is ridiculous," Avila said of the online reaction.
He saw the controversy as an opportunity to expose people to the pre-Hispanic origins of the food and ingredients, which included edible insects, a source of protein that is still common in many parts of Mexico.
"It's not all meats and tortillas," Avila said of her home country's cuisine.
Drawing inspiration from Mexico's annual bug festivals (Avila said there are hundreds of edible bugs in Mexico), he has created a Bug Festival at his restaurant this week, with a menu that includes the sampler plate.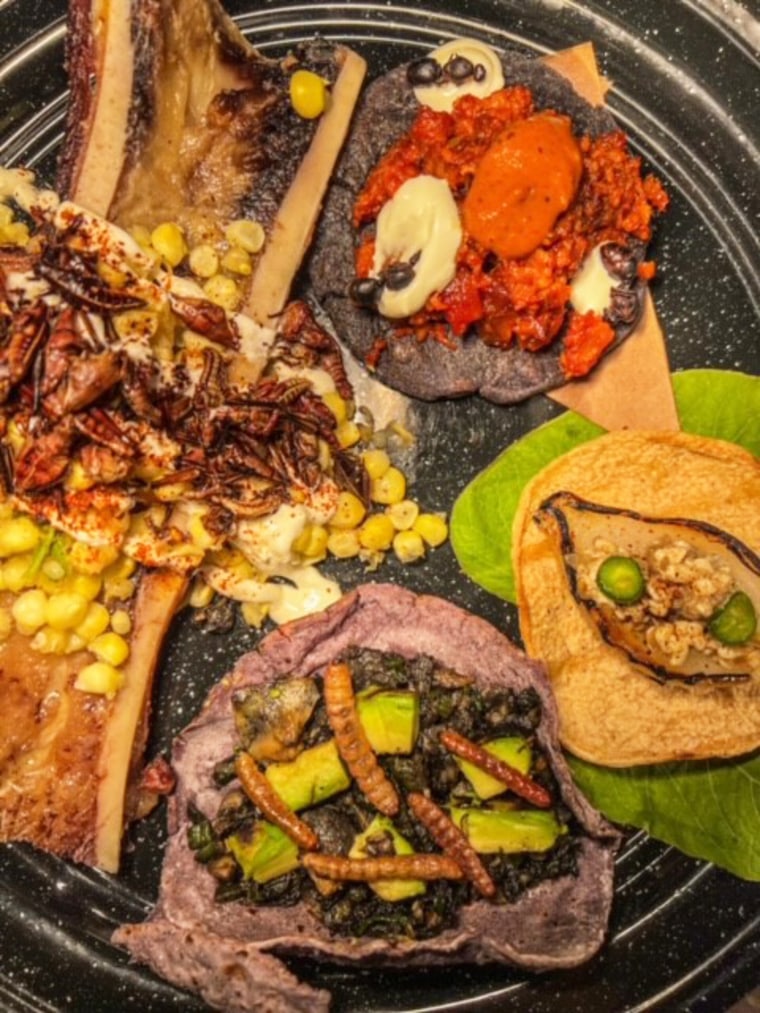 The event, which continues through the weekend, has already been a success, according to Avila. He said he was impressed with the diners who had «killed» the dishes, leaving only the bone marrow and corn husks for the tamale.
"Eighty percent of the people who had the dish knew what they expected. They wanted it. They wanted to eat it, they craved these things. and the other 20% [got it] because [they were] curious about it," Avila said.
"So that we can keep these traditions and keep these ingredients, techniques strengthened in 2023, it's just my goal," Avila said.
The success of the festival has been worth the effort, he said, despite a customs-related delay in shipping the insects from Mexico. "This is not an item that you can go to a Restaurant Depot and order two boxes of this and two boxes of that," she said. Insects aren't cheap either; Avila told NBC News that some cost him $150 a pound.
Avila has been garnering accolades for its authentic pozole (hominy) dishes and mezcal experiences; he touts that he and his team stick to tradition and curate the broths, or soups, with ingredients imported from Mexico.
His creative takes on tradition have paid off: in 2021 The Denver Post named La Diabla the best restaurant in the city and last year Bon Appetit included it as one of the best restaurants in the United States.
While Avila loves the recognition, she said it's really about getting to the «soft spot,» when a diner from Mexico bites into the food and is transported.
«That's what it's all about, bringing back memories of these people, of their childhood and reminding them of their grandmothers and mothers… Maybe they're no longer here with us,» Avila said. «Those are the prizes.»