Jessica Layman estimates that she has called more than 150 doctors in recent years in her search for someone to prescribe opioids for her chronic pain.
"A lot of them are straight up insulting," said the 40-year-old, who lives in Dallas. «They say things like 'We don't treat drug addicts.'»
Layman has tried a number of non-opioid treatments to help with the intense daily pain caused by double scoliosis, a collapsed spinal disc, and facet joint arthritis. But she said nothing worked as well as methadone, an opioid she's been taking since 2013.
The last phone calls came late last year, after his previous doctor closed his pain medicine practice, he said. She hopes her current doctor doesn't do the same. "If something were to happen to him, I have nowhere to go," she said.
Layman is one of the millions in the US living with chronic pain. Many have had trouble getting opioid prescriptions written and filled since 2016 guidelines from the Centers for Disease Control and Prevention inspired laws cracking down on medical and pharmaceutical practices. The CDC recently updated those recommendations to try to lessen their impact, but doctors, patients, researchers and advocates say the damage has already been done.
"We had a massive problem with opioids that needed to be rectified," said Antonio Ciaccia, president of 3 axis advisors, a consulting firm that analyzes prescription drug prices. «But the crackdown and federal guidelines have created collateral damage: patients are left dry.»
Born out of an effort to combat the nation's overdose crisis, the guideline led to legal restrictions on doctors' ability to prescribe painkillers. The recommendations left many patients dealing with the mental and physical health consequences of rapidly tapering the dose or abruptly stopping medication they had been taking for years, which carries risks of withdrawal, depression, anxiety and even suicide. .
Help for people with chronic pain
In November, the agency published new guidelines, encouraging clinicians to focus on the individual needs of patients. While the guidelines still say that opioids should not be the preferred choice for pain, they do ease recommendations on dose limits, which were generally considered strict rules in the 2016 CDC guidance. The new standards also warn physicians about the risks associated with rapid dose changes after long-term use.
But some doctors worry that the new recommendations will take a long time to make a significant change, and may be too little or too late for some patients. Reasons include a lack of coordination from other federal agencies, fear of legal consequences among providers, state legislators hesitant to change laws, and the widespread stigma surrounding opioid medications.
The 2016 guidelines for prescribing opioids for people with chronic pain filled a gap for state officials seeking solutions to the overdose crisis, he said. Dr Pooja Lagisettyassistant professor of medicine at the University of Michigan Medical School.
He dozens of laws that states passed Limiting how providers prescribe or dispense those drugs, he said, had an effect: a decline in opioid prescriptions even as overdoses continued to rise.
Early CDC guidelines «put everyone on notice,» he said Dr Bobby Mukkamala, chair of the American Medical Association Task Force on Substance Use and Pain Care. Doctors have reduced the number of opioid pills they prescribe after surgeries, she said. The 2022 revisions are «a dramatic change,» she said.
It's hard to overstate the human cost of the opioid crisis. Opioid overdose deaths have rose steadily in the US in the last two decades, with a beak early in the covid-19 pandemic. The CDC says illicit fentanyl has led to a recent spike in overdose deaths.
Taking the perspective of chronic pain patients into account, the latest recommendations try to reduce some of the harm to people who benefited from opioids but were discontinued, he said. Dr. Jeanmarie PerroneDirector of the Penn Medicine Center for Addiction Medicine and Policy.
"I hope we continue to spread caution without spreading too much fear of never using opioids," said Perrone, who helped craft the latest CDC recommendations.
Christopher Jones, director of the CDC's National Center for Injury Prevention and Control, said the updated recommendations are not a regulatory mandate but just a tool to help physicians «make informed, person-centered decisions related to pain treatment».
multiple studies question whether opioids are the most effective way to treat long-term chronic pain. But reduced drug use is associated with overdose deaths and suicide, with the risk increasing the longer a person has been taking opioids, according to research by Dr. Stefan Kerteszprofessor of medicine at the University of Alabama-Birmingham.
He said the new CDC guidance reflects «an extraordinary amount of input» from chronic pain patients and their doctors, but he doubts it will have much of an impact if the FDA and Drug Enforcement Administration don't change the way they enforce it. federal laws.
The FDA approves new drugs and their reformulations, but the guidance it provides on starting or weaning patients might urge doctors to do so with caution, Kertesz said. The DEA, which investigates doctors suspected of illegally prescribing opioids, declined to comment.
The DEA's search for doctors put Danny Elliott of Warner Robins, Georgia, in a dire situation, his brother, Jim, said.
In 1991, Danny, a representative of a pharmaceutical company, suffered an electric shock. He took pain medication for the resulting brain injury for years until his doctor faced federal charges for illegally dispensing prescription opioids, Jim said.
Danny turned to doctors out of state, first in Texas and then in California. But the DEA suspended the license of Danny's last doctor last year and couldn't find a new doctor to prescribe those drugs, Jim said.
Danny, 61, and his wife, Gretchen, 59, committed suicide in November. "I'm really frustrated and angry that pain patients are isolated," Jim said.
Dany became an advocate against the forced reduction of drugs before death. Chronic pain patients who spoke to KHN pointed out their plight by asking for more access to opioid medications.
Even for people with prescriptions, it's not always easy to get the medications they need.
pharmacy chains and drug wholesalers have settled multi-billion dollar lawsuits for their alleged role in the opioid crisis. Some pharmacies have seen their opioid dispensing limited or cut, Ciaccia noted, with 3 Axis Advisors.
Rheba Smith, 61, of Atlanta, said her pharmacy stopped filling her prescriptions for Percocet and MS Contin in December. She had taken these opioid medications for years to control chronic pain after her iliac nerve was mistakenly severed during surgery, she said.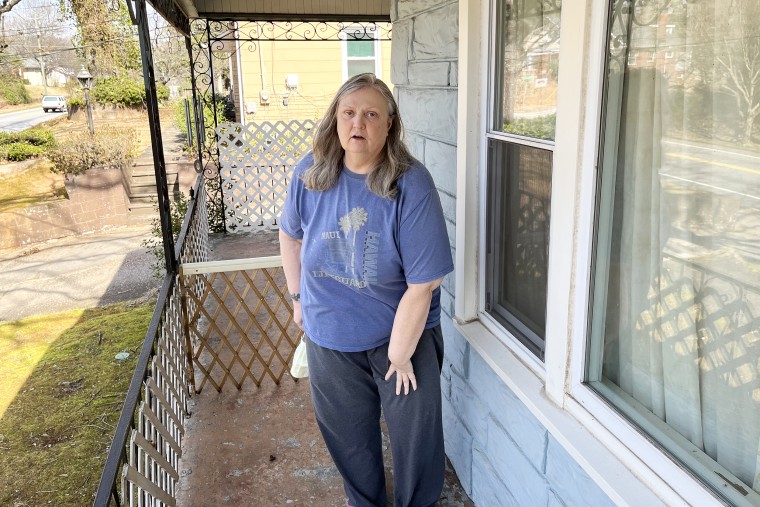 Smith said she visited nearly two dozen pharmacies in early January but couldn't find one that could fill her prescriptions. He eventually found a local mail-order pharmacy that stocked a month's supply of Percocet. But now that drug, along with MS Contin, are not available, the pharmacy told him.
"It has been a horrible three months. I've been in terrible pain," Smith said.
Many patients fear a future of constant pain. Layman thinks of everything he would do to get medicine.
"Would you be willing to buy drugs on the street? Would you be willing to go to an addiction clinic and try to get pain treatment there? What are you willing to do to stay alive? she said. «That's what it all comes down to.»