Hundreds of Iowa students participated in a school walkout Wednesday to protest a slew of proposed state legislation they say discriminates against LGBTQ students.
Students from 26 high schools and two universities coordinated the walkouts that will take place throughout the day across the state.
The IowaWTF, a coalition of high school students fighting against "discriminatory legislation," and the Iowa Queer Student Alliance, a group of LGBTQ high school and college students, organized the day of protests.
Jemma Bullock, a member of the Iowa QSA, said the group is leading strikes for two reasons: to educate students about bills being considered in the state Legislature and to get the attention of lawmakers behind those bills.
"We're trying to make it impossible for those in power to ignore us," said Bullock, a senior at Ankeny High School, just north of Des Moines. "Because right now, there are people who go to the Capitol and attend those public hearings on these bills; It's been teachers, psychiatrists, doctors, students, parents, administrators, all sorts of people who come in and say, 'This is harmful. This will have bad effects. This will cause bullying, depression and anxiety and will not be safe for the LGBTQ+ community in our schools.» And they just won't listen.»
By mid-afternoon on Wednesday, students and local reporters began sharing images and videos of the strikes on social media.
Allison Steffen, a senior at Marion High School northeast of Cedar Rapids, and Hannah Neuville, a junior, said the walkout they organized at their school felt empowering. They said about 70 students and teachers joined them.
"We refuse to remain silent," Neuville said. "This generation has the power to speak out about the issues that affect us. The government shouldn't have a say in private matters like sexual orientation, gender identity, it doesn't affect them. And they say they do it for protection. But who are they protecting?
Steffen added: «We say gay, we say trans and that won't change.»
Some of the largest school districts in the state are among the 21 districts that have students participating, including Des Moines Public Schools, the Iowa City Community School District and the Ankeny Community School District. Students from Grinnell College and Iowa State University also signed up for the strike, according to Waverly Zhao, a senior at Johnston High School, just northwest of Des Moines, and co-founder of the IowaWTF.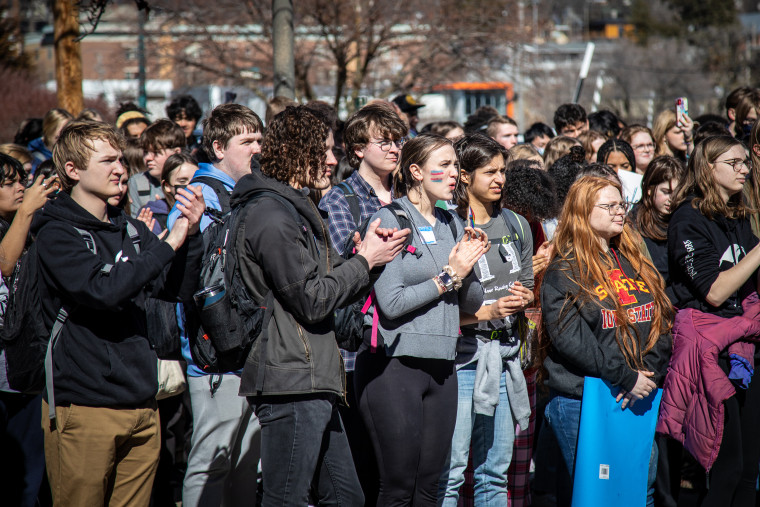 A Grinnell College spokesperson said in an email that the school strongly supports civic engagement for Grinnell students.
"We are watching this legislation closely and are deeply concerned about its potential impact on members of our campus community," the statement said.
Phil Roeder, the spokesman for Des Moines Public Schools, said he attended the walkout at Central Academy, a public high school magnet school, along with more than 400 students.
"Students have the right to participate and speak on issues that matter to them," Roeder said in an email. «With that right come responsibilities, like not disrupting the education of students who don't participate in an event like a strike, but Des Moines Public Schools respects and supports our students in sharing their voices and ideas on issues important to their lives. «
Iowa lawmakers have proposed at least 29 bills targeting LGBTQ people so far this year, according to One Iowa Action, a local advocacy group.
Bullock said what worries him most is a group of bills that would ban instruction related to sexual orientation and gender identity, including one that prohibits the instruction of gender identity up to eighth grade. Bullock also cited another bill that would prohibit school personnel from concealing a student's gender identity from their parents if that gender identity differs from the student's assigned sex at birth, and a joint resolution filed Tuesday by eight House Republicans that would ban same-sex marriage.
Lawmakers have introduced bills seeking to restrict gender-affirming care for minors, which can include puberty blockers, hormone therapy and, rarely, surgery, in at least 23 states, including Iowa, so far. of the year. Utah, South Dakota, and Mississippi have enacted their bills, and Iowa advanced such a measure On Tuesday, WHO-TV, a local NBC affiliate in Des Moines, reported.
Zhao said the ban on transition-related care could harm the mental health of trans minors, who already face a higher risk of suicidal ideation. She said she also fears that bills targeting schools could affect the emotional support LGBTQ students receive at school, and may not receive at home.
"The concern here is that increasing parental involvement in such a controversial and personal issue for many students will definitely hurt them," he said.
So far this year, state legislators across the country have introduced more than 300 bills targeting LGBTQ people, according to counts by the American Civil Liberties Union and a separate group of researchers they are following the flow of legislation.