Two more horses died in the hours before Mage won the Kentucky Derby 15-1 on Saturday, bringing this week's death tally at Churchill Downs to seven.
The alarming number of horse deaths cast a shadow over the 149th edition of the world's most famous race.
Chloe's Dream, a 3-year-old gelding that participated in the Derby undercard, was dragged by a pickup truck and then euthanized Saturday morning.
Freezing Point, a 3-year-old colt, was withdrawn from the Pat Day Mile race just hours before the start of the main event. The horse was later given a lethal injection.
CLICK HERE FOR MORE SPORTS COVERAGE ON FOXNEWS.COM
A total of five horses were also suspended from the Kentucky Derby.
The deaths during Derby week have heightened the scrutiny of the sport as it continues to grapple with doping suspensions.
STRONG EARLY KENTUCKY DERBY FAVORITE SCRATCHED JUST HOURS BEFORE RACE START; SIXTH HORSE DIES
The current problems within the sport also caught the attention of people who attended the Derby.
«It's concerning, and I hope they quickly do the best they can to correct whatever is going on,» said Michael Freeze, who dressed up as a jockey. «They need to do what is best for the horses and the sport in general.»
Mage had just one win in three previous races before holding off a 9-1 thrashing from Two Phil's down the stretch. The colt, who did not race as a 2-year-old, ran a 1¼ mile in 2:01.57 with Javier Castellano.
The 45-year-old Hall of Fame jockey, who hasn't been in as much demand of late, snapped an 0-for-15 streak in the Derby. He and coach Gustavo Delgado are from Venezuela.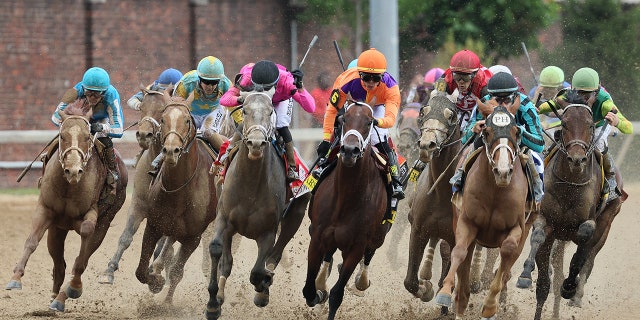 «I never give up,» Castellano said. «I always strive to do the right thing. It took me a little while to get there. I finally got it.»
Mage joined Canonero II as Derby winners with Venezuelan ties. Canonero II won the Derby and the Preakness in 1971.
«Coming home, he had a lot of heart,» Castellano said. «He is a little horse with a big heart.»
Two Phil's was second and 4-1 favorite Angel of Empire was third in front of a crowd of 150,335 on a warm, partly cloudy day at Churchill Downs.
The first death occurred a week ago when Wild on Ice was injured while training. The horse was transported to an equine hospital in Lexington, where it was later euthanized.
Two horses also died last Saturday. Parents Pride, trained by Saffie Joseph Jr., stopped down the stretch but ultimately died on the track.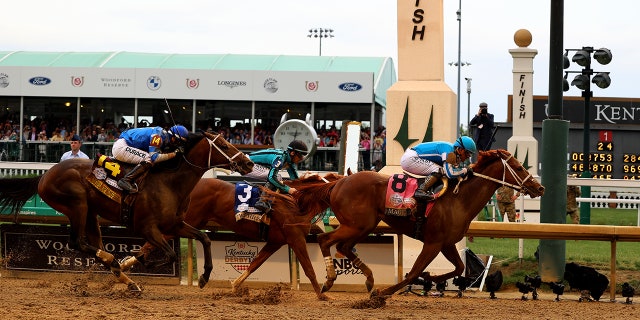 Code of Kings capsized twice at a later point in the paddock, injuring his neck. Take Charge Briana and Chasing Artie were reported dead Tuesday. Chasing Artie was also trained by Joseph and was able to finish her race, but she collapsed near the winner's circle.
Churchill Downs issued a statement about the four deaths.
«While a series of events like this is highly unusual, it is completely unacceptable,» the statement said.
«We take this very seriously and recognize that these troubling incidents are alarming and must be addressed. We feel a tremendous responsibility to our fans, participants in our sport and the entire industry to lead in safety and continue to make significant investments to eliminate risk. for our athletes. We have complete confidence in our racing surfaces and have been assured by our jockeys and jockeys that they do as well.»
CLICK HERE TO GET THE FOX NEWS APP
The Kentucky Horse Racing Commission along with Churchill Downs later suspended Joseph indefinitely while it investigates the nature of the deaths.
Associated Press contributed to this report.