Florida Atlantic's magic carpet will now head to Houston.
The ninth-seeded Owls head to the Final Four after defeating No. 3 Kansas State, 79-76, in an instant classic.
The Wildcats trailed by four at the half, but came out of the locker room on a 19-8 run to take a seven-point lead, their biggest of the night.
CLICK HERE FOR MORE SPORTS COVERAGE ON FOXNEWS.COM
But that didn't deter the Owls. Kansas State didn't score for close to five minutes, and FAU dropped 10 unanswered points to take a four-point lead with four minutes to go.
FAU drilled a 3-pointer to take a 70-64 lead with less than three minutes to play. Several seconds later, the Wildcats' Keyontae Johnson fouled. Alijah Martin went to the line and drilled two free throws, and the Owls' eight-point lead with 2:44 to go was the biggest of the night. It was a 15-1 run for FAU.
New Yorker Marqkuis Norwell drilled a deep three-pointer to cut the deficit to three points with just over 90 ticks remaining. The Owls missed a one-on-one, but grabbed their own rebound and hit a layup to get back up five.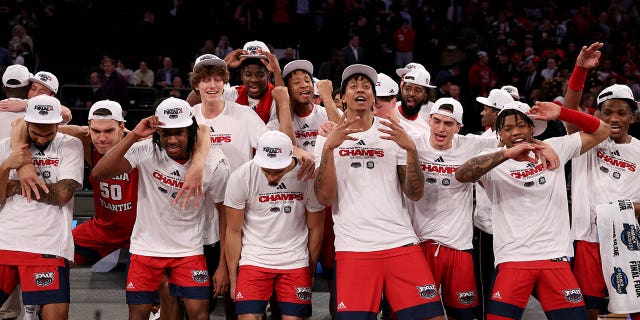 MIAMI BEATS HOUSTON TO ADVANCE TO ELITE 8; NO MORE NO. 1 SEEDS LEFT IN MARCH MADNESS
Norwell hit a pair of free throws to make it a three-point game again with 1:06 remaining. The Owls tossed a three up in the air and it was the Wildcats ball with 39.2 seconds remaining. Norwell missed a layup, but the Owls only made a free throw at the other end. A wild, deep 3-pointer by Kansas State turned the game into a point with 22.8 seconds to go.
FAU's Michael Forrest made a pair of free throws to go back up three, and the Wildcats had 17.9 seconds. They cut it to one again, and the Owls went to the line with 6.9 seconds left for two shots. Forrest hit both again, and Kansas State was unable to shoot when the final buzzer sounded.
The Owls put on a clinic on the offensive backboard, grabbing 14 offensive rebounds to Kansas State's five, and the Wildcats had just 17 defensive rebounds. The Owls also took advantage of their trips to the charity strip, going 18-for-22 while Kansas State went 12-for-18.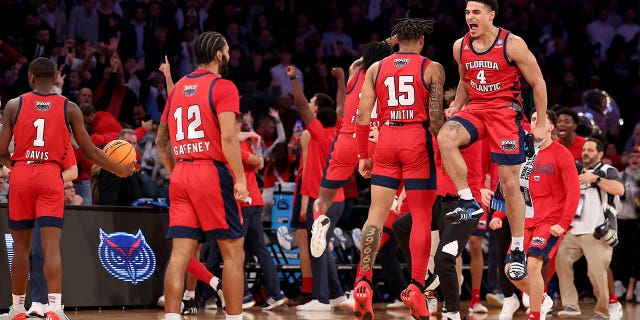 CLICK HERE TO GET THE FOX NEWS APP
FAU awaits the winner of No. 5 San Diego State and No. 6 Creighton. It is FAU's first appearance in a Final Four in school history.