QUITO, Ecuador — Some affectionately call Machala the «Banana Capital of the World.» This port community on Ecuador's Pacific coast is home to around a quarter of a million people and is normally bustling with commercial activity. But not this weekend, not after the deadly earthquake.
Grief hung in the air Sunday, a day after a powerful tremor rocked this city, toppling homes and buildings along the coast and as far away as the Ecuadorian highlands and even parts of Peru.
Debris covered some streets of Machala. Neighbors held simple funerals to bury the dead. A dock no longer existed. And one day after the quake that killed nine residents along this hard-hit coast alone, many in Machala were distraught and uneasy.
«The city is calm, fear and mourning are felt,» said resident Luis Becerra. "You feel the pain, the drama, everywhere you go. Everyone is alert, with a lot of fear in case a major aftershock occurs.
The quake, which the US Geological Survey reported as a magnitude 6.8, killed at least 15 people and injured more than 445. Fourteen died in Ecuador and one in Peru.
The quake damaged and demolished hundreds of houses and buildings in many different communities, both in the coastal areas and in the highlands. But in Ecuador, regardless of geography, many of the houses that collapsed had much in common: Many were old, did not meet modern construction standards in an earthquake-prone country, and many were poor.
Yajaira Albarracín, Graciela Chila, Silvina Zambrano Chila and two children died under the rubble of their home in a popular neighborhood in Machala. On Sunday, some neighbors stopped in front of a tent where the coffins of the women were exposed with floral arrangements and a crucifix. Some relatives said rescuers found the bodies of the women and children as if they had been hugging each other when the disaster struck.
The quake was centered off the Pacific coast, about 80 kilometers (50 miles) south of Guayaquil, Ecuador's second-largest city. Of the country's 14 victims, 12 died in the southwestern coastal state of El Oro, which includes Machala, and two in the mountainous state of Azuay.
Ecuador is particularly vulnerable to earthquakes. In 2016, an earthquake centered farther north on the Pacific coast killed more than 600 people.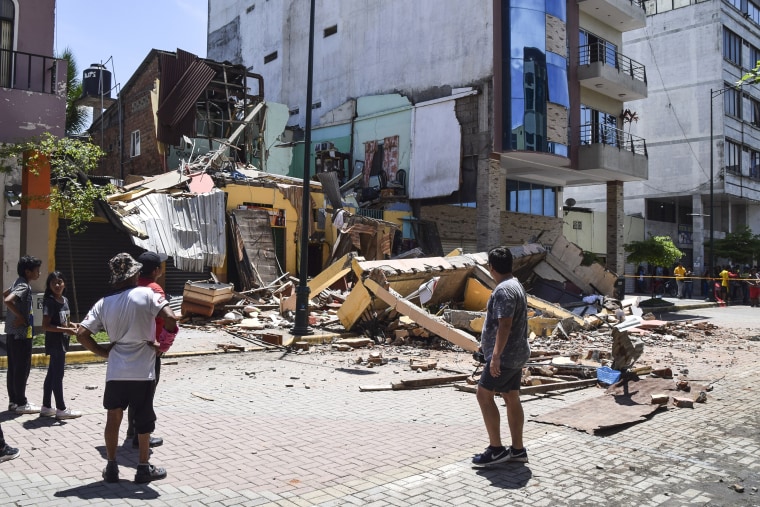 Machala resident Hamilton Cedillo said Sunday that he and his family barely slept in the hours afterward, fearing deadly aftershocks. They have come up with an evacuation plan and have watched videos on how to protect themselves in the event of another earthquake.
"I am afraid of leaving and that my family will be left here at home alone," Cedillo said.
Pope Francis offered prayers for the victims during his weekly blessing on Sunday at noon.
«I am close to the Ecuadorian people and I assure you of my prayers for the dead and those who suffer,» Francisco said.
Ecuador's government has issued an emergency declaration covering roads in Azuay, where debris from the quake cut several roads and worsened already poor conditions attributed to winter rains. One of the victims was a passenger of a vehicle crushed by the rubble of a house in the community of Cuenca.
In El Oro, according to the Secretaría de Gestión de Riesgos, Ecuador's emergency response agency, several people were trapped under rubble or in damaged buildings.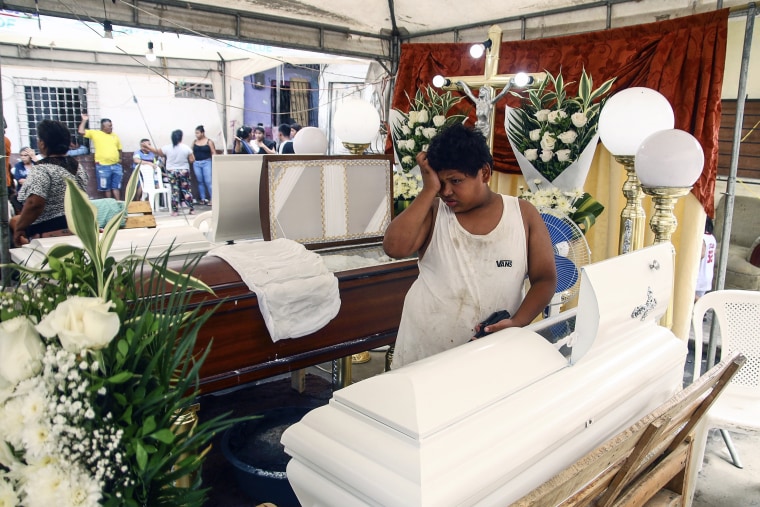 Quito architect Germán Narváez said the most affected houses tend to be poorly built, without solid foundations and deficient in structure and technical design. He added that the most vulnerable houses are often old and built with materials such as adobe, once widely used in the region.
«At critical moments of earthquakes, they tend to collapse,» he said.
Juan Vera lost three family members when the earthquake collapsed his niece's house. The government has offered to pay for the funeral of the woman and those of her baby and her partner.
Now, Vera wonders why the local authorities allowed her relatives to live there in the first place, saying the municipality should better regulate building conditions and ensure that only those that are truly safe are rented or occupied.
"Because of its age, that building should have already been demolished," Vera said of the place where her relatives died.