English and Australian cricketers helped stop a Just Stop Oil protest during a match at Lord's on Wednesday as their second Ashes Test was about to kick off.
Climate change activists tried to spread orange powder on the pitch, but the players intervened.
CLICK HERE FOR MORE SPORTS COVERAGE ON FOXNEWS.COM
England wicketkeeper Jonny Bairstow tackled a protester and led the person around 50 yards before letting security deal with him. England captain Ben Stokes and Australian David Warner cornered another protester. Only minimal orange dust was released.
«Police have arrested three people and detained them,» London's Metropolitan Police said in a statement.
Just Stop Oil released a statement about their subsequent protest.
CARDENALS STRUGGLE AGAIN TO BEAT CUBS, SPLIT LONDON SERIES BEHIND WILLSON CONTRERAS' BIG DAY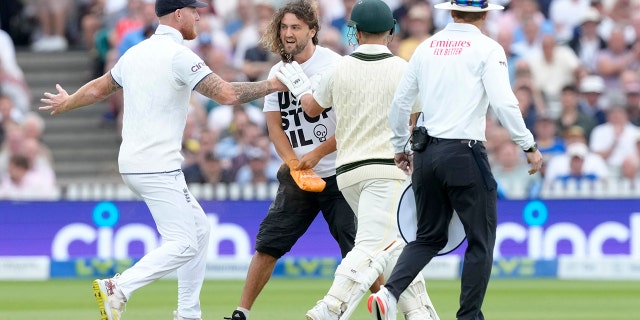 «Cricket is an important part of our national heritage, but how can we enjoy Ashes when much of the cricket world is becoming unsuitable for humans to live in? We can no longer afford to be distracted when the sports we play, the food we eat, and the culture we hold dear is at risk,» a spokesman for the group said.
"It is time for cricket lovers and all those who understand the gravity of this situation to take to the streets and demand action from this illegitimate and criminal government. When our children ask us: 'What did we do to avoid this crisis?' We better have a good answer.»
Just Stop Oil protesters disrupted other sporting events in Britain this year, including the world snooker championship in April.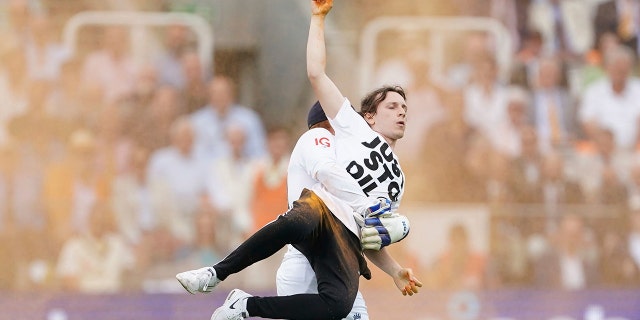 CLICK HERE TO GET THE FOX NEWS APP
«Their actions not only endanger themselves and those working on the pitch, but they have consistently shown complete disregard for the people who pay to attend events, not just here at Lord's but at other sporting venues around the country,» said Guy, chief executive of the Marylebone Cricket Club. Lavender said in a statement.
Associated Press contributed to this report.