LOS ANGELES (AP) — Carrie Fisher received a star on the Hollywood Walk of Fame Thursday, a May 4 tribute to a beloved "Star Wars" actor who had a touch of stardust.
The late star's daughter, Billie Lourd, with her mother's portrait printed on her metallic gown, accepted the star on Fisher's behalf. She tossed glitter, her mother's favorite, at the newfound star.
"My mom used to say that you weren't really famous until you became a Pez dispenser. Well, people eat candy from her neck every day. I say you're not really famous until you get a star on the Hollywood Walk of Fame," she said. "My mom is a double whammy: a Pez dispenser and she now has a star on the Hollywood Walk of Fame. Mom, you did it.»
Mark Hamill, who played Fisher's space brother Luke Skywalker, was also in attendance and recalled meeting the young actress when she was just 19 years old.
"She played such a crucial role in my personal and professional life and both would have been so much emptier without her. Was she a handful? Was she high maintenance? No doubt! But it would all have been more monotonous and less interesting if she hadn't been the friend that she was," Hamill said.
Several in the crowd were dressed as characters from the space franchise, and C-3P0 and R2-D2 were in attendance at the opening. «Never forget the droids!» Lourd said on a humid day he gave way to the sun.
Fisher, who died in 2016, joins «Star Wars» co-stars Harrison Ford and Hamill at the Hollywood tourist attraction that recognizes luminaries from film, television, music and other entertainment industries. The stars of the trio are located in the 6800 block of Hollywood Boulevard, near where the original film premiered in 1977.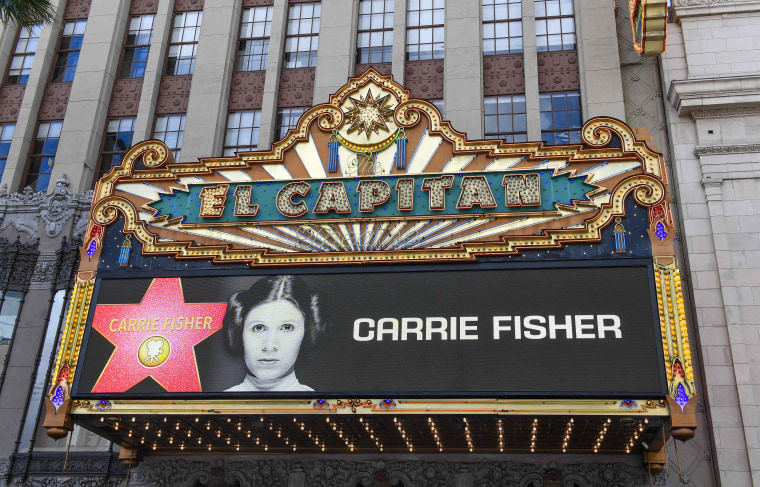 Fisher played Leia Organa, who over the course of six films transformed from a princess to a general who leads the forces of good in their fight against oppressive regimes that seek to control a galaxy far, far away.
"No one is going to be as hot or as cool as Princess Leia," Lourd said. "Leia is more than a character. She is a feeling. She is strength. She is grace. She is witty. She is femininity at her best. She knows what she wants and she gets it. She doesn't need anyone to rescue her because she rescues herself and even rescues rescuers. And no one could have played her like my mother.»
Fans had long campaigned for her to receive a star on the Walk of Fame. The honor comes on May 4, essentially an official holiday for Star Wars fans that's a play on a line Fisher often said in the movies: «May the Force be with you.»
Devotees from around the world celebrate with a variety of tributes, while retailers hold special sales of Star Wars merchandise.
Fisher received the 2,754th star on the Walk of Fame. Ford received the star from him in 2003 and Hamill received a similar recognition in 2018.
Walk of Fame stars are awarded to nominated artists and a fee of $75,000 is now required to create the star and maintain it.