One of the survivors of the bus stop crash in Brownsville, Texas, which left at least eight people dead and 10 injured, speaks out and urges President Joe Biden to take action.
"I came to offer my children a better future and I just arrived yesterday, I arrived and now I don't have a leg," Gabriel Gallardo, 27, said from his hospital bed in a video message translated from Spanish to the US president. and was provided to Noticias Telemundo and NBC news. The man suffered a partially amputated leg. «My dream is gone,» he said.
"I hope that my mother, Nancy, my wife, Andreina, and my children, Gabriel and Ángel, can come," said Gallardo, a migrant who left Venezuela with his family. «I hope you will consider us after all we suffered yesterday.»
Gallardo was one of 10 people injured Sunday after a pickup truck plowed into a group waiting at a bus stop in the border city of Brownsville. The driver, whom authorities identified as 34-year-old George Alvarez, was charged with eight counts of manslaughter.
Authorities are investigating and have not ruled out the possibility that the accident was intentional.
Gallardo's wife and two children, who remain in Colombia, said they were «devastated» and asked for help in another video.
"My children and I need to be with my husband, as well as their mother. We left Venezuela with a future and a dream for their children. That dream has been overturned. Please, President Biden, we ask for your help, please. «said Gallardo's wife, Yuleissi Andreina Quintero, who is 29 years old.
Gallardo's mother, Nancy Xiomara García Contreras, who is also in Colombia, said in a video: «Please help us get there so he can see his children, so his wife can be there to help support him… I don't have a passport, I have no way to get there.»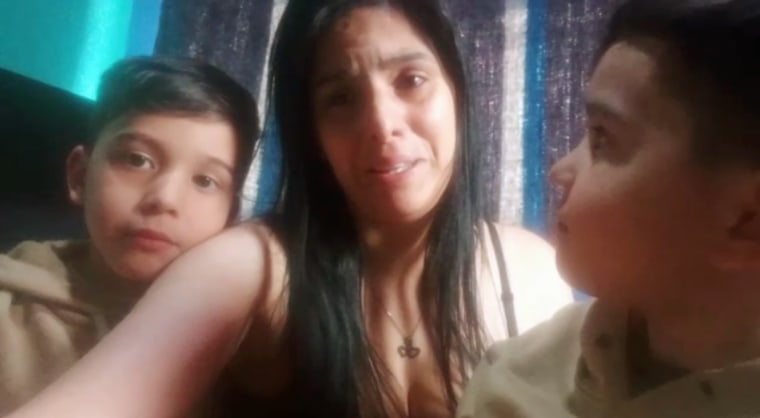 All the victims of the accident are believed to be migrants waiting at the bus stop near the Ozanam Center shelter.
Gallardo had crossed the border with other migrants, including his cousin Raúl Antonio Ramos, who was also injured in the accident.
«I don't even have words to express how I feel,» Gallardo said. «So much pain, so much suffering I went through to get here. God, I feel so bad, I feel so bad about everything.»