The New York Yankees scored four runs in the bottom of the first inning and never looked back on their third straight victory, but they did get some help from the Bronx faithful.
With men at the corners and two out, Harrison Bader drove a pitch up the infamous short porch in right field at Yankee Stadium.
Oakland A's outfielder JJ Bleday jumped for the catch, but came up empty-handed.
A fan with a glove snatched the ball from the right fielder and the fan walked away with a souvenir home run baseball.
CLICK HERE FOR MORE SPORTS COVERAGE ON FOXNEWS.COM
The umpires initially called it a home run, but everyone in the stadium knew there was a chance it would be stopped. When the umpires reviewed it, they found no conclusive evidence of fan interference, so the home run stood.
MLB rules state that if a fan comes onto the field of play to tag a ball in the air, the batter will be declared out. But fans don't have to let fielders make the play, as long as they don't go over the rail.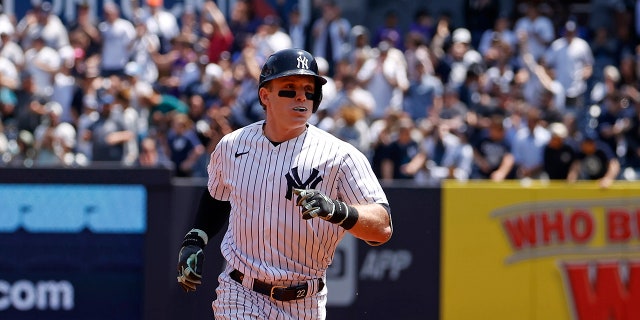 CARDENALS PITCHER JACK FLAHERTY SAYS HE WILL NO LONGER ANSWER QUESTIONS ABOUT SLOWING FASTBALL
The Yankees benefited from the most infamous fan interference of all time in Game 1 of the ALDS when Derek Jeter and Jeffrey Maier were forever linked.
Jeter hit a drive to right field, Maier ripped it from Tony Tarasco's glove and a clearly missed play tied the game for the Yankees. The Yankees won that game, that series, and the World Series.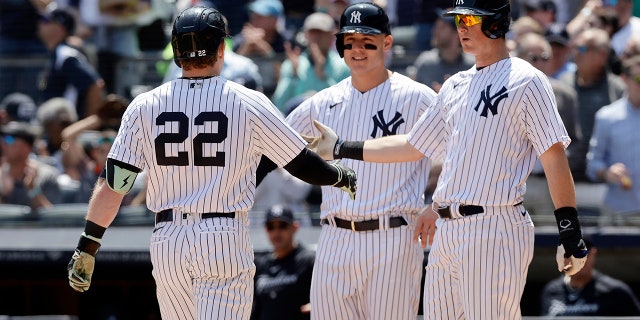 CLICK HERE TO GET THE FOX NEWS APP
Bader's home run would not have left the yard in any of the other 29 MLB ballparks. The Yanks won the game, 11-3, to sweep the lowly A's.